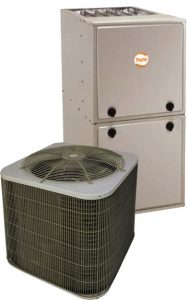 Cooling Services – Gill Plumbing and Heating
Great work, great value and great customer service is what you receive when you call us for a repair, maintenance or new installation.  It starts with your phone call. Air conditioning is a must in cities like Southgate, Riverview, Taylor, and other Downriver communities in Michigan with our hot, humid weather.  We do our best to service you quickly, and do it right.
We are experienced in all types of cooling systems, old and new, residential and commercial, and we service all of Downriver.  Our work is guaranteed and backed with more than 42 years of experience. We are licensed, insured and knowledgeable, while providing you with quality and value.
Central air conditioners are two-part systems.  There's both an outdoor unit and indoor unit that includes a cooling coil and a fan or blower.  We recommend replacing the indoor coil when purchasing a new air conditioner, because most likely it's as old as the outdoor unit you are replacing. An efficient heating and cooling system requires proper sizing, venting and installation.  We offer 13 through 16 SEER (Seasonal Energy Efficiency Ratio) systems, single and 2-stage, with multiple and variable speed motors and can size and fit your home or business to your specifications.
We use proven brands and products, offering you dependable, comfortable and efficient comfort year after year.
Air Conditioning system repair and replacement
Compressor repair and replacement
Refrigerant – R-22 and 410 refrigerants
Condensate pump repair and replacement and more